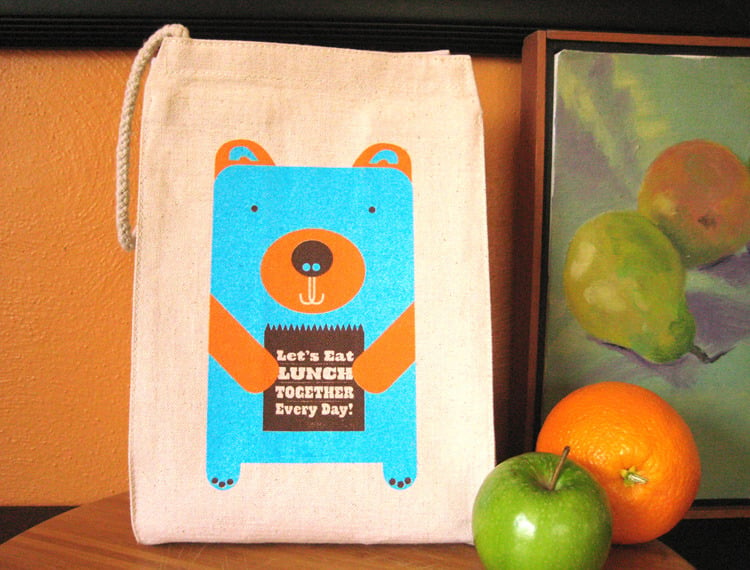 $

18.00 - On Sale
Lunch Bear, Reusable Lunch Bag
Introducing Lunch Bear, your new best friend.
100% recycled cotton canvas, 100% reusable and machine washable, Lunch Bear is our hand silkscreen printed lunch bag BFF for kids and adults.
Our super-friend and super-eco-friendly recycled cotton canvas lunch bags are made with certified Fair Wage & Fair Labor practices.
Lunch Bear is quite roomy with plenty of space to hold any sort of lunch, dinner, breakfast, or even a snack that you might pack for your day. You could easily fit a dozen peanut butter and jelly sandwiches or half a dozen apples in Lunch Bear. He's happy to help you hold it all!
- Size 7" wide x 10.5" tall with a 4.5" flat bottom gusset.
- Velco-like self sealing and snug top for snack-time safety.
- 100% Recycled natural, unbleached cotton.
- Machine washable.
Not only does Lunch Bear give hugs, he gives help! A portion of the proceeds from each sale of our Lunch Bear lunch bags goes to the anti-bullying organization Pacer. To learn more about Pacer, and the anti-bullying movement visit them here:
http://www.pacer.org/bullying/