Let's Play! Dog Totem-Style Screen Print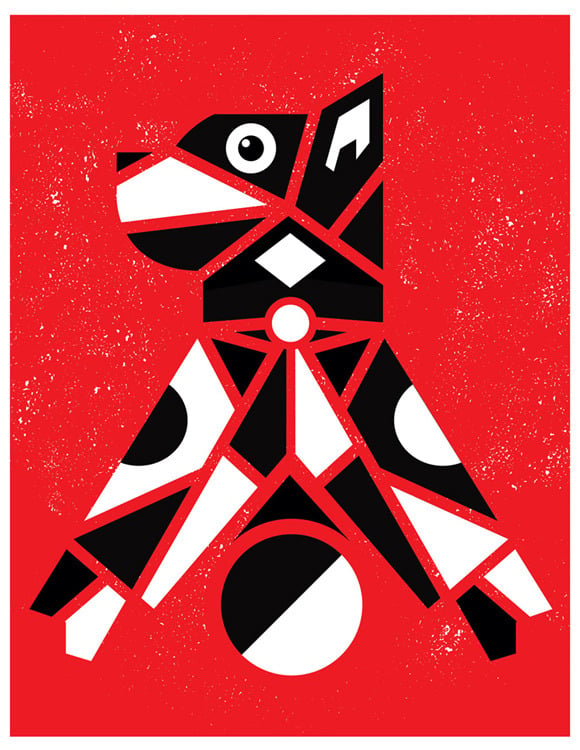 $

20.00
Let's Play! silkscreen print.
Hand screen printed, limited edition dog-friendly art print.
Woof! Play Ball! Bark! Let's Play!
Have a playful pup in your life? We hope so! Everyone should. And now you won't ever have to live without a super K9 play-bomb of a fuzzy best friend ever again.
Let's Play! is our all hand silkscreen printed, totally on point, completely ready to go, and happily bark free new art print. Ready to fetch, get pets, alert you to Strangers Approaching and yes, play ball! For dog lovers, Boston Terrier enthusiasts and Parsons (Jack) Russell Terrier fans everywhere. (Our own little Sprite is a half & half mix. When one Terrier gets tired, the other Terrier kicks in like a turbo-booster.)
A portion of the sales of each of these prints goes to Animal Friends, one of our local no-kill shelters here in Pittsburgh, and the amazing shelter where we adopted our dog Sprite:
http://www.thinkingoutsidethecage.org
- Inks: 2 colors from 2 screens bright scarlet red and midnight black hand-mixed and non-toxic, water based screen printing inks.
- Edition: 200, each print is hand numbered, signed and titled.
- Size: 16 x 20 inches (40.6 cm x 50.8 cm.)
- Paper: Archival, no-acid, recycled content, American made Cougar Opaque White, 100lb cover weight.
- Fits beautifully into either a standard 16" x 20" frame, or into an 18" x 24" frame with a 2" matte.