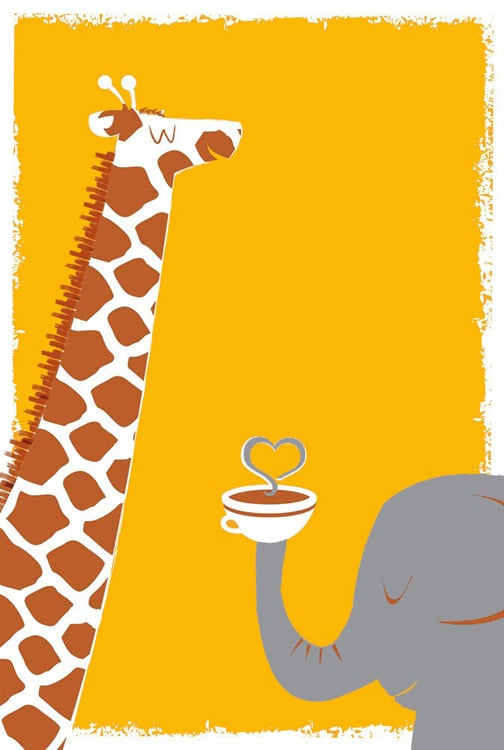 $

30.00
Coffee, Thee & Me, silkscreen.
Hand screen printed, open edition art print.
That's all we need, love.
A long-sold out print of ours that was originally designed and printed in 2009 print was part of a coffee-themed art show at Mugshots in Philadelphia to benefit a Peruvian fair trade collective, we've brought this scene of perfect friendship and love back from the archives. Now the sale of each print helps to benefit Fair Trade USA, (see below).
Is anything more sweet and quietly fantastic than those first wonderful sips of coffee in the mornings, made better only by sharing it with kindred soul? Nope.
Additional photographs are from the hand silkscreen printing process.
- Inks: 3 colors from 3 screens featuring newly hand-blended inks in sunny-orange, light roast-coffee brown and elephant grey hand-mixed and non-toxic water based silkscreen inks.
- Edition: Open, each print is hand signed and titled.
- Size: 16 x 22 inches (40.6 cm x 55.9 cm.)
- Paper: Archival, no-acid, recycled content, American made Cougar Opaque White, 100lb cover weight.
- Fits beautifully into either a standard 16" x 20" frame by trimming the border, or into an 18" x 24" frame as is with a 1" matte.
A portion of the sale of each of these prints goes to Fair Trade USA, a nonprofit 501(c)3 organization that audits and certifies transactions between U.S. companies and their international suppliers to guarantee that the farmers and workers producing Fair Trade Certified goods are paid fair prices and wages, work in safe conditions, protect the environment and receive community development funds to empower and uplift their communities. Fair Trade USA educates consumers, brings new manufacturers and retailers into the Fair Trade system, and provides farmers with tools, training and resources to thrive as international businesspeople.
http://www.fairtradeusa.org