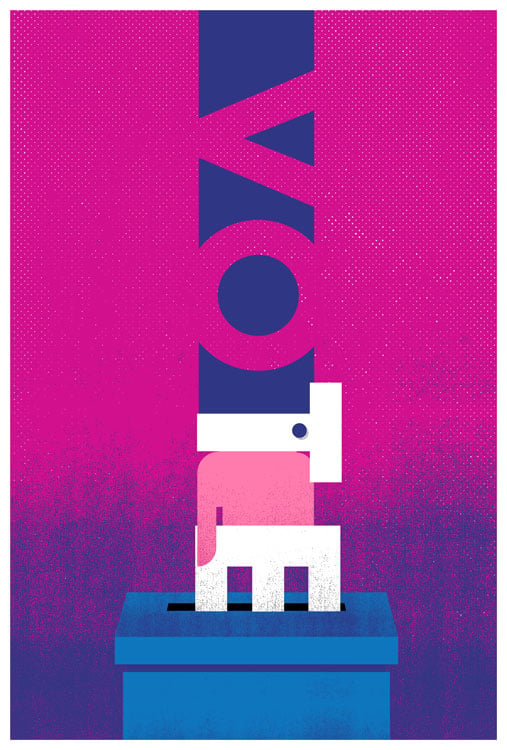 $

20.00
Cast Your VOTE GOTV Poster. No, really. Don't forget to VOTE.
We designed these posters for the 2018 Get out The Vote (GOTV) The Poster Project curated and organized by Wide Eye Creative and are super stoked to be a part of this group of passionate designers working to get more Americans to VOTE this year. And yeah, I'm looking at you too Hoss. VOTE damnit.
For more on the project, to see other designer's pieces or to submit your own check out:
• https://theposterproject.us/
• https://wideeye.co
Priced at a large discount from our other giclee prints PLUS - A substantial portion of each poster sale will go to Emily's List, (https://www.emilyslist.org) a grassroots organization founded in 1985 whose Mission Statement is:
"Our vision is a government that reflects the people it serves, and decision makers who genuinely and enthusiastically fight for greater opportunity and better lives for the Americans they represent. We will work for larger leadership roles for pro-choice Democratic women in our legislative bodies and executive seats so that our families can benefit from the open-minded, productive contributions that women have consistently made in office."
Please note, this is a digital and giclee archival print (not a silkscreen print)
of an original illustration by us here at strawberryluna. Each print is hand titled and signed.
Printed in-house with individual care per print, using high quality, no-acid, archival Epson Premium Matte art paper and high quality Epson archival pigment inks which are guaranteed fade resistant (for at least 100 years).
- Edition: Open, with each print hand signed, and titled.
- Size options measure in inches as follows:
Small - 8x10 inches.
Medium - 11x14 inches.
Large - 13x19 inches.