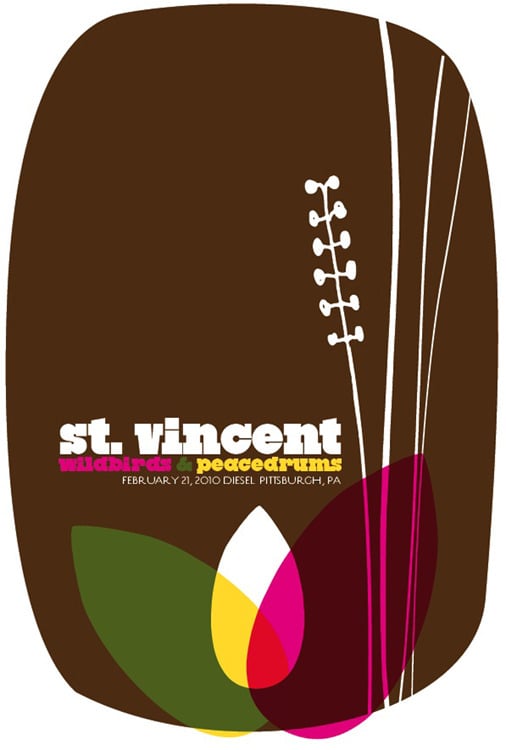 $

25.00
St. Vincent with Wildbirds & Peacedrums silkscreen rock poster
Limited edition hand silkscreen printed rock poster
Beautifully simple and surprisingly complex all at once, that's St. Vincent's music. Super lovely and I'm pleased as punch to be a part of the Winter 2010 tour poster series for her.
Hand printed poster for St. Vincent's show on Sunday, February 21, 2010 at Diesel in Pittsburgh, PA.
- Inks: 6 colors from3 screens with bark brown, clear yellow & magenta hand-mixed and non-toxic water based silkscreen inks. Super secret magic: Three inks were used to make 6 colors with lots of overprints. (Overprints are when semi-transparent layers of ink combine and overlap to make another color.)
- Edition: Limited edition of 125. Each print is hand signed and numbered by strawberryluna. I will have a very imited number of this poster for sale, as most of the edition was sold by the band on the night of the show & on tour.
- Size: 16 x 22 inches (40.6 cm x 55.9 cm.)
- Paper: Archival, no-acid, recycled content, American made Cougar Opaque White, 100lb cover weight.
- Fits beautifully into either a standard 16" x 20" frame by trimming the border, or into an 18" x 24" frame as is with a matte.
Additional photos are from the hand screen printing process in my studio.