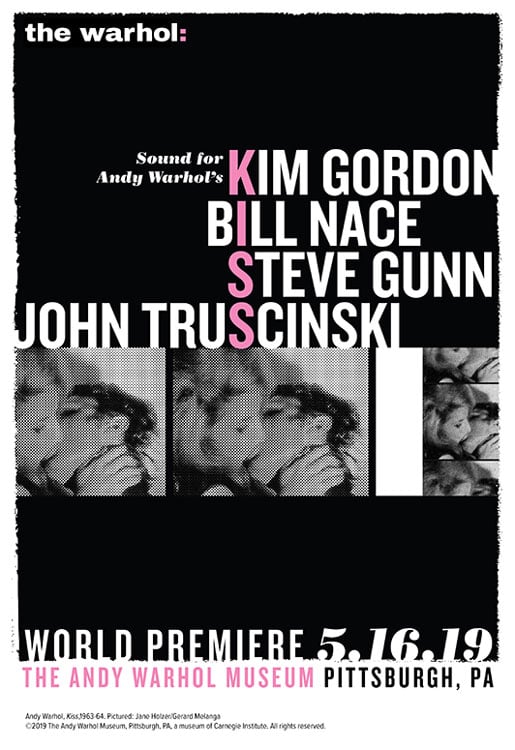 $

0.01
Sound For Any Warhol's Kiss Kim Gordon Poster
Please DO NOT buy this poster here! No, really. Because you can't. We have zero copies available.
This poster is available *exclusively* through The Andy Warhol Museum. Contact The Shop via:
- Email: [email protected] or
- Phone: 412.237.8303
- Website: https://www.warhol.org
Hand silkscreen printed poster for the world premiere and album release for Sound for Andy Warhol's Kiss, a live performance/film commission. Accompanied by collaborators Bill Nace, Steve Gunn and John Truscinski, Kim Gordon will premiere a partially improvised continual soundtrack for Warhol's hour-long film Kiss, 1963-64, that captures close-ups of fourteen couples kissing. The performance paired with the Kim Gordon: Lo-Fi Glamour exhibition of paintings, sculpture and drawings, provides a platform to engage with both the visual and sonic work of an artist who cites Warhol as a key influence, and whose own work with Sonic Youth has been highly influential to younger generations.
- This silkscreen printed poster is part of a design package including a special limited edition 1.5 sided LP on beautiful translucent pink vinyl, see additional photos.
- Colors: 2 from 2 screens with hand-mixed Sun-Moon Yellow, Bright Olive Branch Green and Midnight Black non-toxic water based silkscreen inks.
- Edition: 100, all hand screenprinted in our Pittsburgh studio exclusively for The Warhol Museum. Each print is also hand signed by strawberryluna.
- Size: 16 x22 inches (40.64 cm x 55.8 cm).
- Paper: Archival, no-acid, recycled content, American made Cougar Opaque White, 100lb cover weight.
- Fits beautifully into either a standard 16" x 20" frame by trimming the border, or into an 18" x 24" frame as is with a matte.