Invasion Of The Bee Girls poster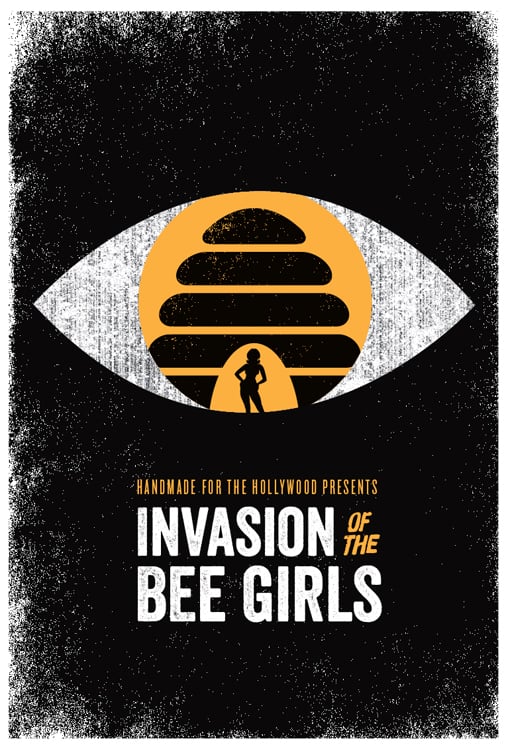 $

25.00
Invasion Of The Bee Girls, hand silkscreen printed movie poster.
Watch out fellas, they're coming for you.
This poster is a part of the Handmade For The Hollywood movie poster series benefitting The Hollywood Theater in Dormont, PA.
The Hollywood is a Pittsburgh treasure, being a 300-seat, single screen movie theater with a balcony. Totally old-timey movie magicalness! The Hollywood Theater is a community center where the public can enjoy movies, film festivals, concerts, and special events such as big screen viewings of sporting events and the Academy Awards...and midnight viewings of The Rocky Horror Picture Show.
Our hand printed poster for the boob-alicious, 1973 Sci-Fi cult classic The Invasion Of The Bee Girls will be on sale via The Hollywood Theater on the series opening night 10/18/13 and then online from the Hollywood thereafter, as well as here. Proceeds from the sale from the Hollywood Theater benefit the upkeep of this Pittsburgh community icon.
50 copies of this poster will be sold as a part of the fundraising effort for The Hollywood Theater and we will have just 25 copies available here after the opening.
- Inks: 2 colors from 2 screens with hand-mixed dusky honey-yellow and midnight black non-toxic water based silkscreen inks.
- Edition: 25: Each print is hand signed and numbered by strawberryluna. Most of the portion of the run of this poster will be available at the opening and we have just a very limited number of these posters for sale. Less than 25!
- Size: 16 x22 inches (40.64cm x 55.8 cm).
- Paper: Archival, no-acid, recycled content, American made Cougar Opaque White, 100lb cover weight.
- Fits beautifully into either a standard 16" x 20" frame by trimming the border, or into an 18" x 24" frame as is with a matte.