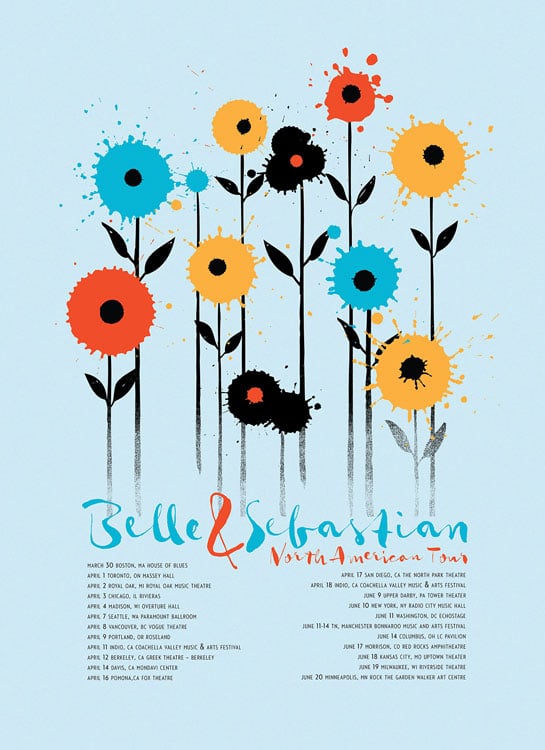 $

30.00
Belle & Sebastian hand silkscreen printed North American 2015 Blue Tour Poster.
New & alternate colorway! So nice, we had to print it twice for the lovelies from Glasgow. Fresh new edition of our Belle & Sebastian 2015 North American Tour Poster, carefully hand screenprinted onto gorgeous French Paper, Pop-Tone Sno Cone paper. Perfect for showing off a riot of summer flowers.
Designed, illustrated and entirely by hand and silkscreen printed the old fashioned way by us here in our studio in Pittsburgh, PA.
- Inks: 4 from 4 screens with hand-mixed Bright Cerulean Blue, Poppy Red, Goldenrod Yellow and Midnight Black non-toxic water based silkscreen inks.
- Edition: We hand pulled and printed 300 of this colorway for the band to take out on their tour, and we have a smaller, very limited edition of less than 50 available. There will also be a limited amount of these posters available from the band's website too! Each & every print is hand signed and numbered by strawberryluna.
- Size: 16 x22 inches (40.64 cm x 55.8 cm).
- Paper: Eco-Friendly & American made French Paper, Pop-Tone Sno Cone Blue, 100lb cover weight.
- Fits beautifully into either a standard 16" x 20" frame by trimming the border, or into an 18" x 24" frame as is with a matte. (See 2nd photo for a framed example!)