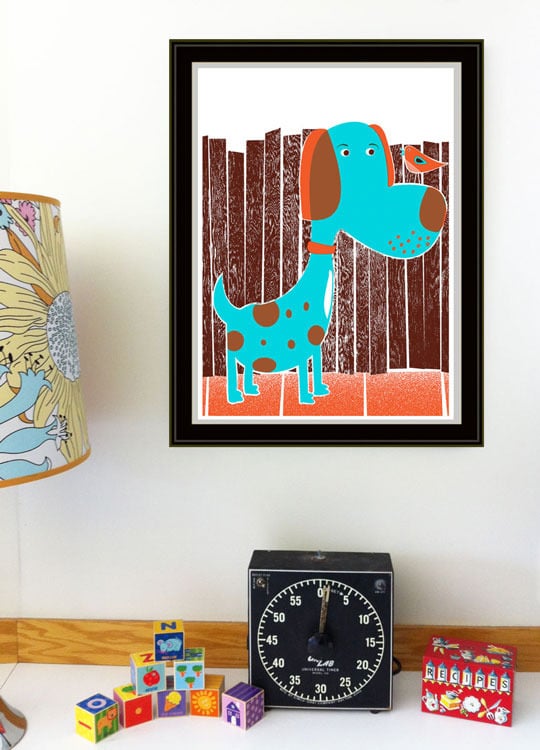 $

25.00
Bird Dog & Bird silkscreen art print
Hand screen printed, limited edition print
Sometimes a great moment happens right in front of you...
Bird Dog & Bird is my all hand silkscreen printed art print of just such an instant. And why couldn't these two be the best of friends? Stranger things have happened!
Hand pulled silkcreen print illustrated and hand printed by me, strawberryluna.
- Inks: 4 colors from 3 screens featuring bright teal-hound dog blue, warm and transparent burnt orange and cocoa brown hand-mixed and non-toxic water based silkscreen inks.
Utilizing the super fun overprinting silkscreen technique of layering 2 inks to make a new color, here you see orange overprinting teal blue to make a a lovely dark caramel brown everywhere that the 2 colors overlap. Overprint Magic!
- Edition: Limited edition of 105. Each print is hand numbered, signed and titled.
- Size: approximately 15.5 x 19.5 inches (39.37 cm x 49.53 cm.)
- Paper: Archival, no-acid, recycled content, American made Cougar Opaque White, 100lb cover weight.
- Fits beautifully into either a standard 16" x 20" frame by trimming the border, or into an 18" x 24" frame as is with a matte.
Additional photos are from the hand screen printing process in my studio and show how this print might look framed.