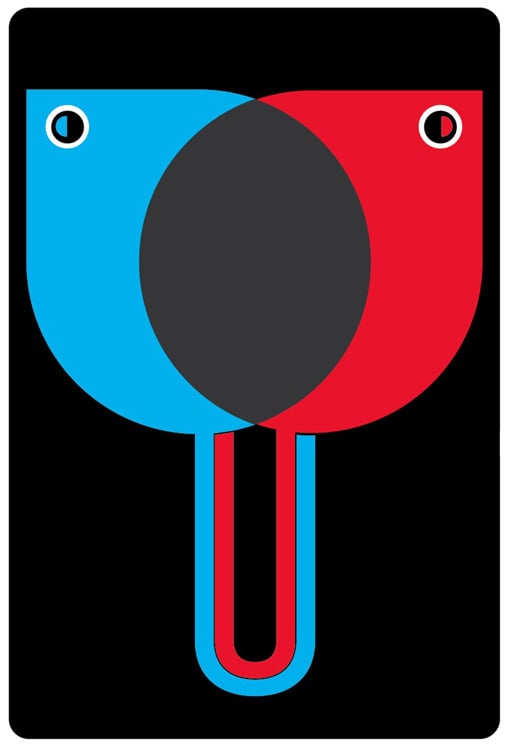 $

25.00
Tiger Birds, Moogfest 2011 Synth Art Show silkscreen
Hand screen printed, limited edition print
What do you see? Is it a panting Tiger? Is it two interlocked birds? It's both! It's everything all at once.
This is our art print for 2011's Moogfest Synth Art Show, Tiger Birds. Inspired the man and the machine, Moog.
- Inks: 4 colors from 3 screens with transparent cyan, bright red, and midnight black hand-mixed and non-toxic water based silkscreen inks.
- Edition: Limited edition of 100. Each print is hand numbered, signed and titled.
- Size: 16 x 22 inches (40.6 cm x 55.9 cm.)
- Paper: Archival, no-acid, recycled content, American made Cougar Opaque White, 100lb cover weight.
- Fits beautifully into either a standard 16" x 20" frame by trimming the border, or into an 18" x 24" frame as is with a matte.
Additional photos are from the hand screen printing process in my studio.
The Moogfest Synth Art Show is a super popular event and a part of the incredible Moogfest, happening this year on October 28, 29 & 30, 2011 in Asheville, NC. Moogfest is the annual event that honors the remarkable vision of Robert Moog and his amazing musical inventions that changed the course of music. More information about the amazing Moogfest and the Synth Art Show below:
http://moogfest.com
http://moogfest.com/activities/synth/