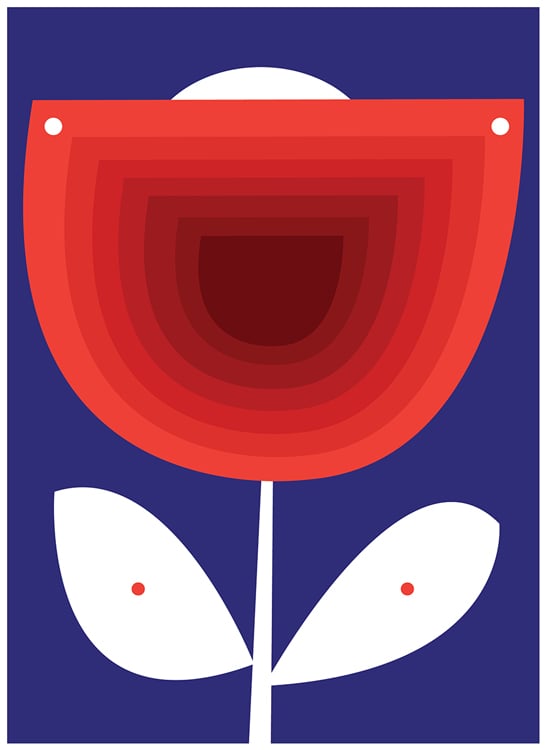 $

20.00
Red Layer Tulip Print, Mod Flower giclee print
A little floral hypnosis will always do you good. We love to layer colors and transparent hues. Here we have soft transparent reds layered against a smooth deep blue. Inspired by my grandmother Henriette, who was Dutch-born. I have always been drawn to the flowers and fields of her homeland.
Red Layer Tulip is the kind of flower we wish existed in the garden, but now it can live on your wall!
Please note, this is a digital and giclee archival print (not a silkscreen print) of an original illustration by me, strawberryluna. Each print is hand titled and signed.
- Edition: Open, with each print hand signed, and titled.
- Size options measure in inches as follows:
Small - Image size: 6.5 x 9.5. Paper size is 9.5 x 13.
Medium - Image size: 9 x 12. Paper size is 11x14.
Large - Image size: 11 x 17. Paper size is 13x19.
- Fits beautifully in a range of standard sized frames with or without a matte, whichever you prefer.
- Paper: Archival, no-acid, Epson Ultra Premium Matte heavyweight paper.
Printed in-house with individual care per print, using high quality, no-acid, archival Epson Premium Matte art paper and high quality Epson archival pigment inks which are guaranteed fade resistant (for at least 100 years).
* Additional photo shows how this print might looked framed. (Sold unframed & without a matte.)