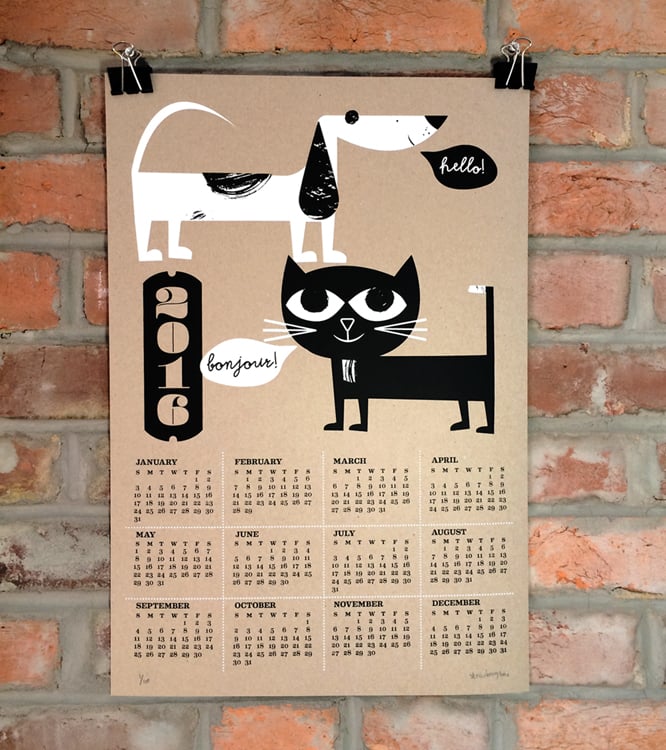 $

15.00
Hello! Bonjour!
You, my friends, are eyeballing our new 2016, all hand pulled, hand screenprinted 2016 Wall Calendar. Maybe you should scoop this baby up & look at this all year?
Any way you slice it, a New Year is about New Beginnings. As evidenced by our lovely cat & dog friends here.
Entirely hand printed the old fashioned way with love. Just for you! This is our all hand silkscreen printed 2016 Wall Calendar, ready to hang and mark each day of your year in friendship and fidelity.
- Inks: 3 color screenprint from 2 screens with hand-mixed midnight black and pure white non-toxic water based silkscreen inks on thick, heavyweight brown kraft chipboard paper stock.
- Edition: 100: Each print is hand signed and numbered by strawberryluna.
- Size: Approximately 13x19 inches (30.48 cm x 48.26 cm).
- Paper: Kraft Chipboard, 150lb heavyweight stock.
- Suitable for framing, or hanging without a frame. Your choice, you're the Boss Applesauce.