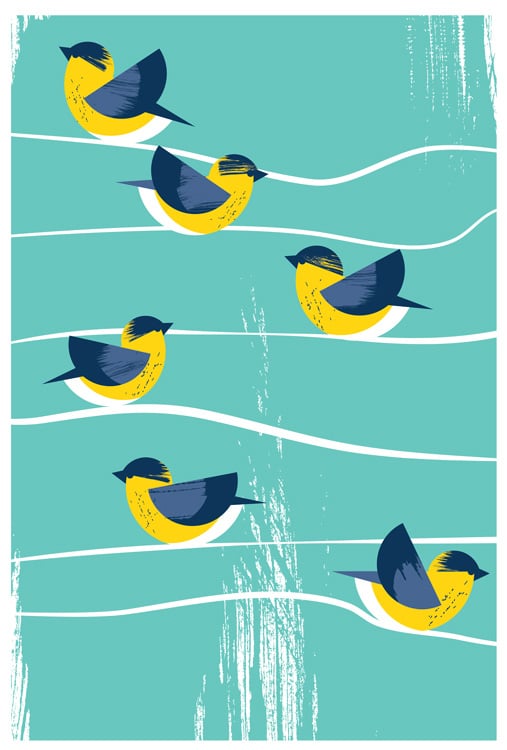 $

30.00
Birds Of A Feather hand screenprinted art print supporting research & bird conservation.
* Debuting AT Handmade Arcade in Pittsburgh, PA on December 3, 2016 along with the other 4 artists pieces for BirdSafePGH - available to ship worldwide on 12/5/16 *
OK, so, this is ultra near & dear to our hearts! Birds Of A Feather is a part of our collaboration with 5 badass Pittsburgh women artists on a project in conjunction with the Carnegie Museum of Natural History to support their avian conservation and research, which includes work with BirdSafe Pittsburgh.
Your purchase of this and any of the 5 artists' BirdSafe-inspired products helps us to support the museum's bird conservation efforts. For example, our donations help pay to rehabilitate stunned birds and operate the flight tunnel to test bird-safe windows.
According to the American Bird Conservancy's bird-friendly building guidelines, buildings can be designed in such a way to mitigate bird collisions. Individuals can also accessorize their windows with netting and closely spaced decals to make them bird-friendly. Overall, BirdSafe Pittsburgh aims to bring attention to this issue by directly involving local residents in research while sharing collected data with scientific and public audiences. To this end, BirdSafe Pittsburgh will research and reduce bird-glass collisions and educate the community to make Pittsburgh and beyond a better, safer world for birds.
To learn more about the work of BirdSafe & The Carnegie Museum of Natural History please visit: http://birdsafepgh.org
The participating BirdSafe artists are as follows:
- Ashely Cecil: www.ashleycecil.com/
- Gillian Preston / Broken Plates Wearables: brokenplatesglasswearables.com/home.html
- Kirsten Lowe Rebel: www.klorebel.com/
- Allison Glancey / www.strawberryluna.com
- Kim Fox / Worker Bird: www.workerbird.com/
This silkscreen print is designed, illustrated and entirely hand printed the old fashioned way by us here in our studio in Pittsburgh, PA.
- Inks: non-toxic water based silkscreen inks.
- Edition: We hand pulled and printed 120. Each print is hand signed and numbered by strawberryluna.
- Size: 16 x22 inches (40.64 cm x 55.88 cm).
- Paper: Archival, no-acid, recycled content, American made Cougar Opaque White, 100lb cover weight.
- Fits beautifully into either a standard 16" x 20" frame by trimming the border, or into an 18" x 24" frame as is with a large matte. (See 2nd photo for a framed example!)