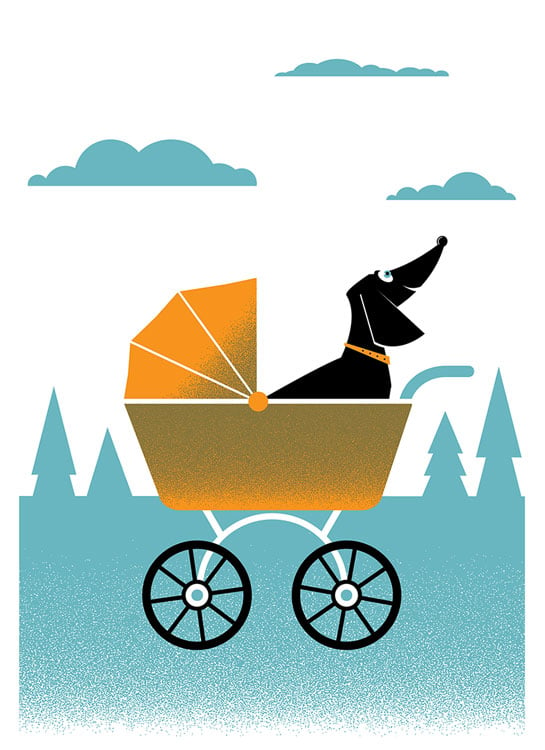 $

20.00
And Baby Makes 3 Stroller Dog, Dachshund giclee print
Dogs in strollers, is there anything cuter? If there is, we've certainly never seen it.
And Baby Makes 3 Enjoy this little cutie-patootie enjoying a beautiful day, every day. Perfect for a nursery, child's bedroom, or a little spot in your office or home that could use a little happiness.
Please note, this is a digital and giclee archival print (not a silkscreen print) of an original illustration by me, strawberryluna. Each print is hand titled and signed.
- Edition: Open, with each print hand signed, and titled.
- Size options measure in inches as follows:
Small - Image size: 6.5 x 9.5. Paper size is 9.5 x 13.
Medium - Image size: 9 x 12. Paper size is 11x14.
Large - Image size: 11 x 17. Paper size is 13x19.
- Fits beautifully in a range of standard sized frames with or without a matte, whichever you prefer.
- Paper: Archival, no-acid, Epson Ultra Premium Matte heavyweight paper.
Printed in-house with individual care per print, using high quality, no-acid, archival Epson Premium Matte art paper and high quality Epson archival pigment inks which are guaranteed fade resistant (for at least 100 years).
* Additional photo shows how this print might looked framed. (Sold unframed & without a matte.)