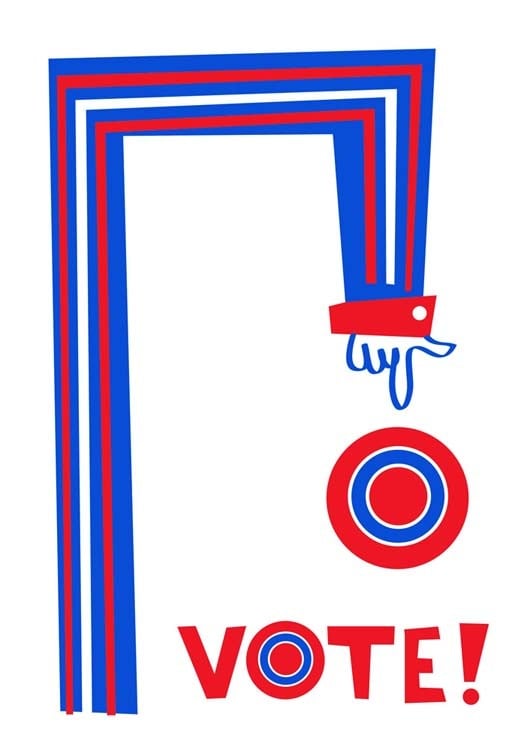 $

30.00
Vote!
Hand silkscreen printed art print, 3rd ed.
Do it!!!
It's a right, and a privilege. For realsies! Use it or lose it.
This bit of commentary on American life is a new 3rd edition of our popular Vote! art print 2-color, all hand screenprinted art print with American red & blue inks. In a new 16x20 inch standard frame size too.
A portion of the proceeds from this print will be donated to Vote Save America's grassroots projects (https://votesaveamerica.com) working to end gerrymandering and voter suppression.
- Inks: 2 colors with American red & blue hand-mixed and non-toxic water based silkscreen inks.
- Edition: brand new open edition for the 2020 election cycle. Because apparently we still need to get the message out to get out the vote. Each print is hand pulled and hand printed by us in our Pittsburgh, PA studio.
- Size: 16 x 20 inches (40.64 cm x 50.8 cm) . Paper: acid-free & archival Cougar 100 lb White, cover weight.
- Paper: Archival, no-acid, recycled content, American made Cougar Opaque White, 100lb cover weight.
Our poster is proudly featured in the book: "Design For Obama: Posters For Change, A Grassroots Anthology", published by Taschen Books and written by Spike Lee & Aaron Perry-Zucker, with an essay by designer Steven Heller, published in November 2009. (See the cover photo to your right.) http://designforobama.org/