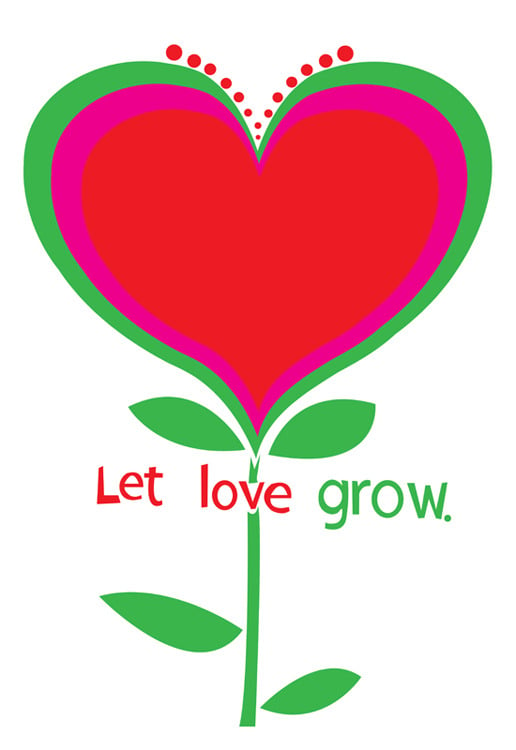 $

30.00
Art print - Let Love Grow silkscreen print.
Hand screenprinted limited edition art print
Just feed, water, and nourish love, then watch it will grow like a flower. Forever.
Once sold out, we reprinted & brought back this simple scene because now more than ever, our world needs love, kindness, and compassion. "Let Love Grow" is our hand silkscreen printed art print "Let Love Grow", bright & ready to help you plant seeds happiness and love all around you. Featuring hand lettered text, it's a perfect gift of hope and love for your sweetie pie, as a wedding gift, for a young person in your life, or to brighten up your own home.
Love: Let it grow bright and strong.
"Let Love Grow" is our 3-color, all hand screen printed, limited edition art print with fresh spring green, vibrant magenta, and heartbeat red hand mixed and non-toxic water based inks. 2nd Edition of 500, hand signed, titled and numbered. Size: 16x20 inches (40.64 cm x 50.8 cm.) Paper: archival Cougar, White 100lb cover weight.
Additional photos are selections from the hand screenprinting and hand pulled printing process, as well as a how this print could look like framed and on a wall.
Yes! We design & hand screenprint our prints and posters. If you have any questions, just let us know! Unless otherwise requested, all orders are shipped within 5 business days, though usually much sooner. I like stupid little toys, hopefully you do too because there will be one or two in your tube.