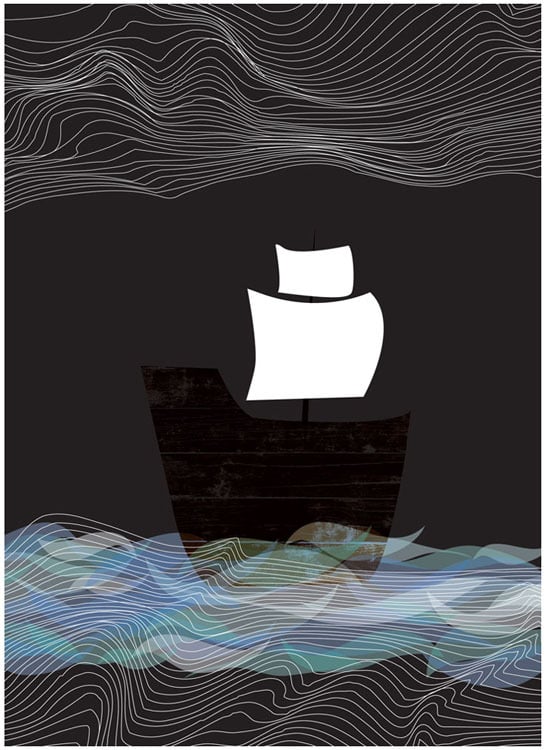 $

20.00
Ghost Ship By Night - giclee art print (diptych)
I have a thing for Ghost Ships, especially the spooky ones. From reading stories about the famous Marie Celeste as child to The Rime Of The Ancient Mariner, ships adrift without a crew, carried on the whims of the sea and the winds have long fascinated me.
Here in this original illustration Ghost Ship By Night, is the second of a 2-part image showing the Night time aspect of an ocean voyage. Shrouded in moonlight and mystery, this Ghost Ship print moves ever on alone. Many Ghost Ships roamed the seas alone for months or even years, seeing many moons rise and set in their solitary journeys.
Please note, this is a digital and giclee archival print (not a silkscreen print) of an original illustration by strawberryluna. Each print is hand titled and signed.
Ghost Ship By Night is 1 of 2 companion prints sold individually or as a 2-print set with Ghost Ship By Day.
Both prints are available as a specially priced duo in 3 different sizes as well. See our "Print Sets" section for details.
- Edition: Open, with each print hand signed, and titled.
- Size options with white border measure in inches as follows:
Small - Image size: 6.5 x 9.5. Paper size is 9.5 x 13.
Medium - Image size: 9 x 12. Paper size is 11x14.
Large - Image size: 11 x 17. Paper size is 13x19.
- Fits beautifully into a range of standard size frames, with or without a matte.
- Paper: Archival, no-acid, Epson Ultra Premium Matte heavyweight paper.
- Printed in-house with individual care per print, using high quality, no-acid, archival Epson Premium Matte art paper and high quality Epson archival pigment inks which are guaranteed fade resistant (for at least 100 years).