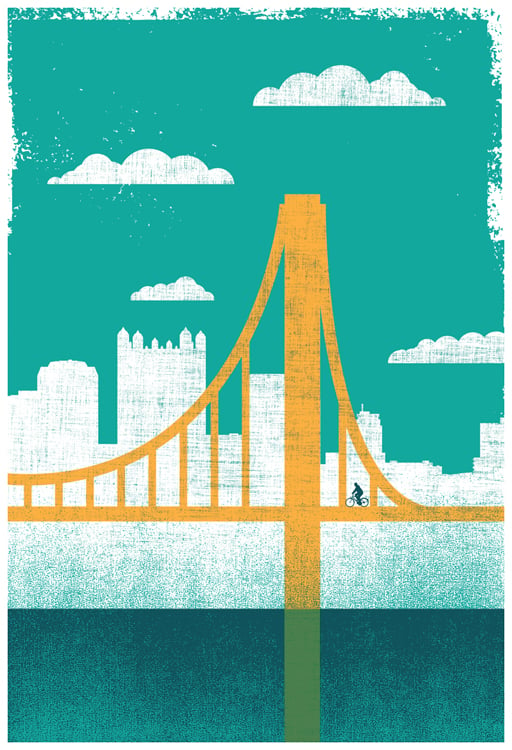 $

30.00
Pittsburgh, City of Bridges, Print 2
Hand screen printed art print
We love Pittsburgh, pretty hardcore. One of the most lovely features are its many bridges. 446 of them in the city limits to be exact, earning Pittsburgh the name "City Of Bridges". And this is our open love letter to them all and our fair city.
"Pittsburgh, City of Bridges 2" features a bicyclist heading over one of the Three Rivers. This all hand pulled silkscreen print is one half of a diptych print set. Check out "Pittsburgh, City of Bridges 1" for the other half. These prints are made to either go together as a beautifully matched set, or look great solo too.
Designed, illustrated and entirely hand silkscreen printed by us here in our studio in Pittsburgh, PA.
- Colors: 4 from 3 screens with hand-mixed Classic Pittsburgh Bridge Gold, Teal and Deep River Green non-toxic water based silkscreen inks.
- Edition: Open edition, all hand silkscreen printed by strawberryluna. Each print is also hand signed by strawberryluna.
- Size: 16 x22 inches (40.64 cm x 55.8 cm).
- Paper: Archival, no-acid, recycled content, American made Cougar Opaque White, 100lb cover weight.
- Fits beautifully into either a standard 16" x 20" frame by trimming the border, or into an 18" x 24" frame as is with a matte. (See 2nd photo for a framed example!)