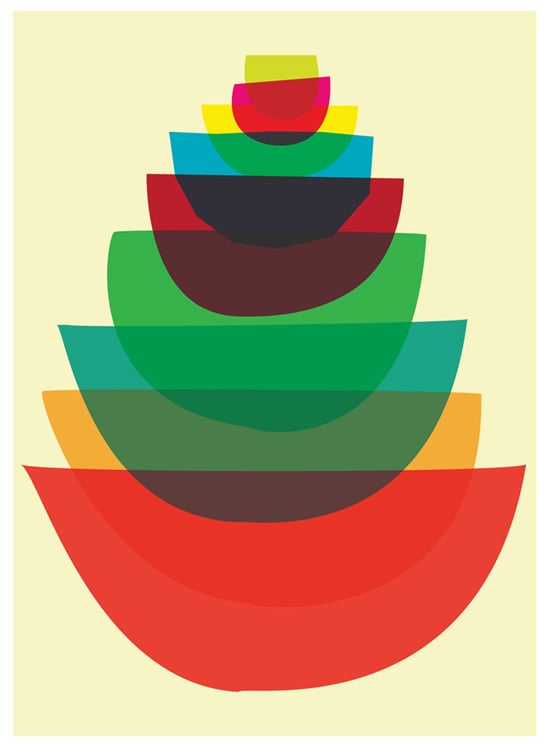 $

20.00
Bowl Stack - Kitchen Art Print
Mid Century Modern Inspired giclee print
We love to cook, and we adore a great set of stacking bowls. Our favoritest set are a vintage Jadeite set that nest beautifully and have a translucent quality.
Good cooking and happy kitchens are all about balance.

Full of colorful overprints and transparent layers, our Bowl Stack giclee art print is a marriage of all of those things in one brightly colored little bowl village just waiting to find a new home in your home!
Bowl Stack is a companion print to our Utensil Stack print:
http://shop.strawberryluna.com/product/utensil-stack-kitchen-art-print
Both prints are available as a specially priced duo in 3 different sizes as well. See our "Print Sets" section for details. It's the perfect Housewarming gift!
Please note, this is a digital and giclee archival print (not a silkscreen print) of an original illustration by me, strawberryluna. Each print is hand titled and signed.
- Edition: Open, with each print hand signed, and titled.
- Size options measure in inches as follows:
Small - Image size: 6.5 x 9.5. Paper size is 9.5 x 13.
Medium - Image size: 9 x 12. Paper size is 11x14.
Large - Image size: 11 x 17. Paper size is 13x19.
- Fits beautifully in a range of standard sized frames with or without a matte, whichever you prefer.
- Paper: Archival, no-acid, Epson Ultra Premium Matte heavyweight paper.
Printed in-house with individual care per print, using high quality, no-acid, archival Epson Premium Matte art paper and high quality Epson archival pigment inks which are guaranteed fade resistant (for at least 100 years).
* Additional photo shows how this print might looked framed. (Sold unframed & without a matte.)