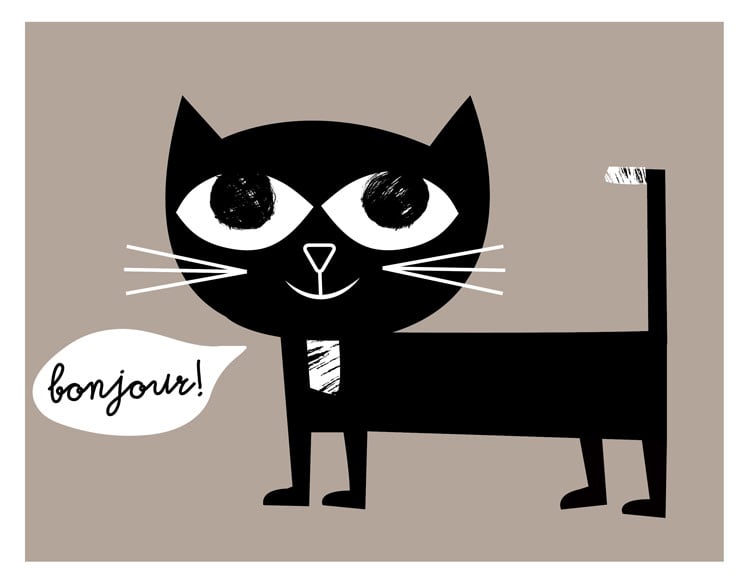 $

20.00
Bonjour! Kitty Giclee Print.
Hello! This super cute French kitty cat is part of the first two prints in our new Language Class series featuring friendly, intercontinental animal pals saying hello.
This listing is for the "Bonjour! Kitty" Print ONLY. "Bonjour! Kitty" is a companion print to our "Hello! Pup!" print. If you would like both prints together, or just the "Bonjour! Kitty" Print visit these listing links below:
Bonjour! Kitty AND Hello! Pup Print Set:
http://shop.strawberryluna.com/product/language-class-hello-pup-bonjour-kitty-giclee-print-set
Hello! Pup Print ONLY:
http://shop.strawberryluna.com/product/hello-pup-print-language-class-friends-giclee
Please note, these are archival digital giclee prints (not a silkscreen print) of original illustrations by me, strawberryluna. Each print is hand titled and signed. Prints come unframed, additional photo shows how these prints might looked framed. (Sold unframed & without a matte.)
Printed in-house with individual care per print, using high quality, no-acid, archival Epson Premium Matte art paper and high quality Epson archival pigment inks which are guaranteed fade resistant (for at least 100 years).
- Edition: Open, with each print hand signed, and titled.
- Size options with white border measure in inches as follows:
Small - Image size: 6.5 x 9.5. Paper size is 9.5 x 13.
Medium - Image size: 9 x 12. Paper size is 11x14.
Large - Image size: 11 x 17. Paper size is 13x19.
- Paper: Archival, no-acid, Epson Ultra Premium Matte heavyweight paper.
I design and print all of my own prints and posters, so let me know if you have any questions! Shipped in a sturdy mailing tube via USPS. Unless otherwise requested, all orders are shipped within 5 business days, though usually much sooner. I like stupid little toys, hopefully you do too because there will be one or two in your tube.
* Additional photo shows how these prints might looked framed. (Sold unframed & without a matte.)