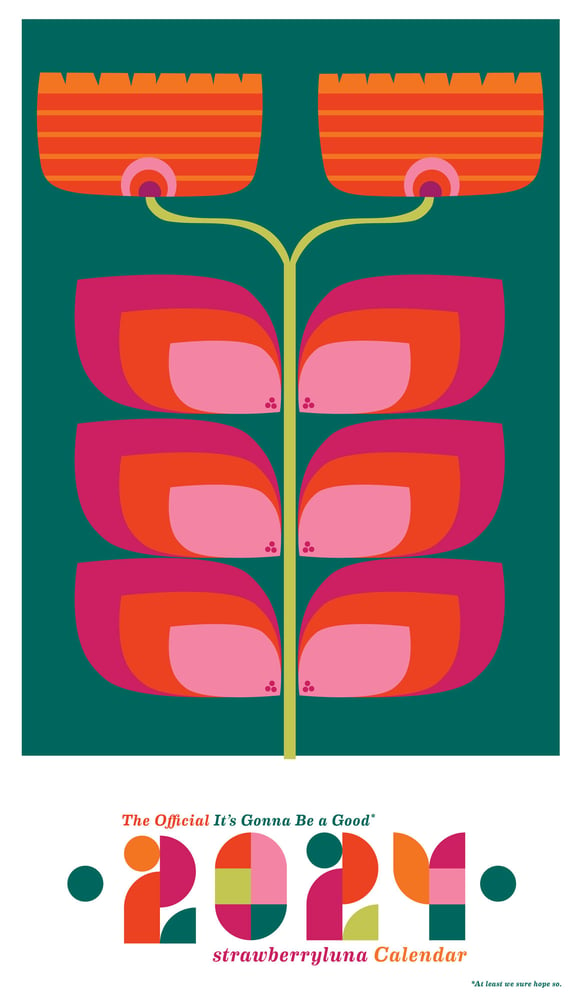 $

26.00
2024 strawberryluna Illustrated Wall Calendar
Hello 2024! Bring a bit of joy into your daily life. All year long!
Our new 2024 botanical art calendar is here to brighten your days. All 366 of them
('cause it's a leap year!)
Packed with illustrated scenes of Nature, Birds, and Flowers each month's artwork is gorgeous wall decor all on their own too.
The Official "It's Gonna Be A Good 2024" (at least we sure hope so!) Calendar is filled with enough bright, happy joy to keep you going all year long. Let's all make 2024 a great year!
Note that our 2023 Wall Calendar sold out super fast, and while we are printing a larger run this year, once these Calendars are gone, they're really gone forever.
Each month features hand illustrated all new artwork by strawberryluna featuring semi-abstract and modern takes on nature scenes that capture the vibes of each month of the year. We will also offer each design and illustration as a stand alone print too.
Plus! There is a little "Good Stuff To Do" List section for each month. Don't want to forget to make dinner res. for Valentine's Day? We got you. Need to make sure you stop and smell the roses in June? We got you! Want to get apple picking in September? Boo, we got you! All year long.
- Dimensions: Sized at an easy to fit anywhere overall size of 7 in. x 12.5 in.
- Each illustration is 6.5 in. x 8in. and can be framed with a matte or hung with wooden poster hangers or clips. So easy!
- Paper: Printed on chunky weight 100lb smooth bright white Cougar stock.
- Outfitted with a sturdy Wire-O coil and hanger kit and ready to hang right away.
- Days of the week run Sunday - Monday
- Printed in Pittsburgh, PA.
Shipping starts in mid-to-late-October. Calendars are shipped flat, with a protective cello sleeve.
Interested in wholesale? Get in touch!