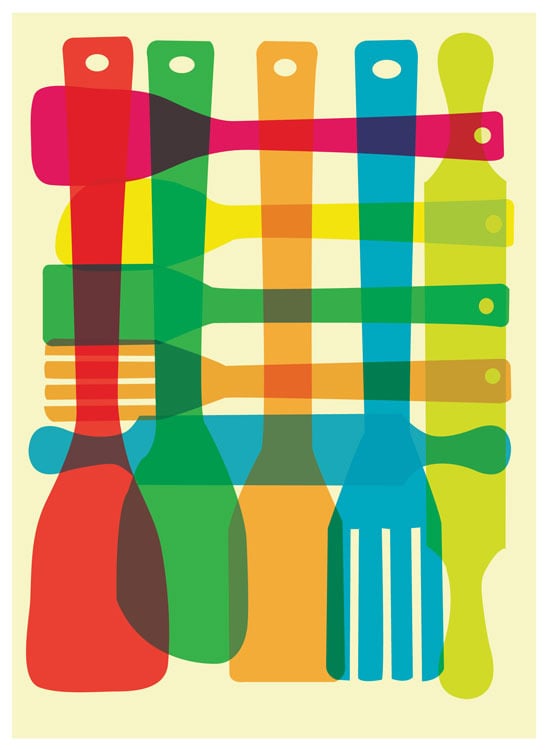 $

20.00
Utensil Stack - Kitchen Art Print
Mid Century Modern Inspired giclee print
We think happy homes start in the kitchen and good cooking & happy kitchens are all about balance.
We love to create home-cooked meals and treats around our home. And we believe that the the right utensil for the right job translates into effortless, delicious and layered flavors. Full of colorful overprints and carefully created transparent layers, our "Utensil Stack" giclee art print is a marriage of all of those things in one brightly colored plaid pattern created with neatly stacked kitchen utensils, just waiting to find a new home in your home!
Utensil Stack is a companion print to our Bowl Stack print:
http://shop.strawberryluna.com/product/bowl-stack
Both prints are available as a specially priced duo in 3 different sizes as well. See our "Print Sets" section for details. It's the perfect Housewarming gift!
Please note, this is a digital and giclee archival print (not a silkscreen print)
of an original illustration by me, strawberryluna. Each print is hand titled and signed.
Printed in-house with individual care per print, using high quality, no-acid, archival Epson Premium Matte art paper and high quality Epson archival pigment inks which are guaranteed fade resistant (for at least 100 years).
- Edition: Open, with each print hand signed, and titled.
- Size options measure in inches as follows:
Small - Image size: 6.5 x 9.5. Paper size is 9.5 x 13.
Medium - Image size: 9 x 12. Paper size is 11x14.
Large - Image size: 11 x 17. Paper size is 13x19.
- Fits beautifully in a variety of standard sized frames with or without a matte, whichever you prefer.
- Paper: Archival, no-acid, Epson Ultra Premium Matte heavyweight paper.
I design and print all of my own prints and posters, so let me know if you have any questions! Shipped in a sturdy mailing tube via USPS. Unless otherwise requested, all orders are shipped within 5 business days, though usually much sooner. I like stupid little toys, hopefully you do too because there will be one or two in your tube.
* Additional photo shows how this print might looked framed. (Sold unframed & without a matte.)