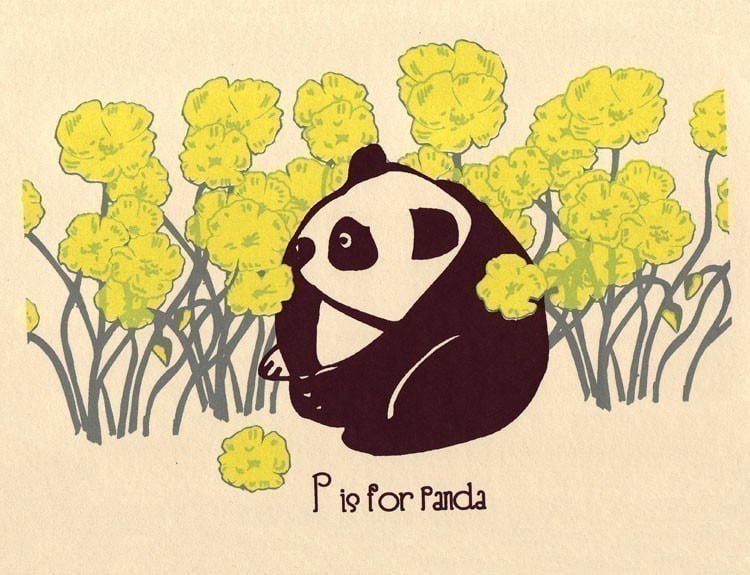 $

18.00
P is for Panda Alphabet Print Silkscreen
Animal Alphabet Nursery Art Print, hand screen printed
P is for Panda Alphabet Print is a great nursery & baby shower gift, as well as really sweet general: "I love you, my little Panda" token of affection. Who here doesn't not like shy Panda Bears?
This was the first print in my Alphabet Print series originally designed for my friends' first born daughter. He's a fat lil three color wonder with some nifty overprinting in the flowers. Nifty is a great word, isn't it?
- Inks: 3 colors with chocolate brown, transparent soft yellow, and dark grey hand-mixed and non-toxic water based silkscreen inks.
- Edition: Open, with each print hand signed, and titled.
- Size: 11 x 14 inches (27.9 cm x 35.6 cm) I love the deckled edges of Stonehenge so I leave the deckle edges at the top.
- Paper: Archival, no-acid, 100% cotton rag, deckle edge, American made Stonehenge printmaking paper, Natural 90lb cover weight.
$18 each, or 3 for $40 for a savings of $14. Heck yeah! It's your lucky day! Please see the "Any 3 Alphabet Prints Silkscreen Set" bundle for details.
My Alphabet Print series was featured in Real Simple's 2007 Holiday Gift guide. Yes way!
Additional photos show a lovely example of how these prints look framed. Ribbon & clothespin photo courtesy of Bird & Flower Vintage on Etsy.