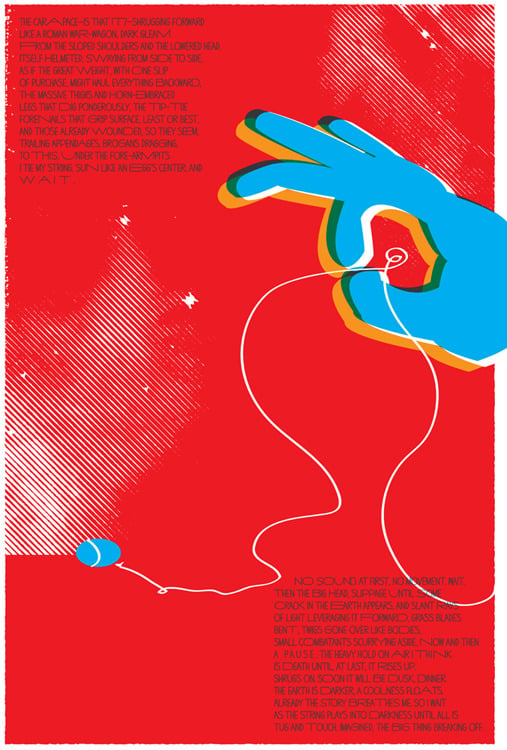 $

25.00
June Bug - Dave Smith poetry silkscreen art print
Hand screen printed art print, limited edition
June Bug, poem by Dave Smith, art by strawberryluna: Print No. 3
This is the third print in a series of 3 silkscreen prints combining the poetry of American poet Dave Smith with the art of strawberryluna, as a part of the gallery show Poetic. Aesthetic.: An Exploration of Creativity in Poetry and Visual Art curated by John Shipman & The Art Gallery at the University of Maryland.
Poetic. Aesthetic. explored the relationship between the lyricism of poetry and the aesthetic force of visual communication. By probing this relationship, Poetic. Aesthetic. fostered creative collaboration across artistic disciplines. The Art Gallery partnered Maryland poets with international artists to collaborate on visual works for the show.
This print is our visual interpretation of Dave Smith's 'June Bug'.
- Inks: 5 colors from 3 screens heavy with overprint shadows created by laying hand mixed, water based silkscreen inks in poppy red, sun orange, cool sky cyan hand-mixed and non-toxic water based silkscreen inks. The extra bit of magic? From 3 colors hand printed, I get 5 by layering the inks over each other to make new colors. I love screenprinting!
- Edition: Limited edition of 75. Each print is hand numbered, signed and titled.
- Size: 16 x 22 inches (40.64 cm x 50.8 cm.)
- Paper: Archival, no-acid, recycled content, American made Cougar Opaque White, 100lb cover weight.
For more information about Dave Smith: http://www.poetryfoundation.org/bio/dave-smith
For more information about the Poetic. Aesthetic. show: http://www.artgallery.umd.edu/exhibitions/2010-2011/poetic-aesthetic/index.html